Home
›
Books
Welcome to Harry Potter Forum! Below you will find many interesting threads and discussions. Enjoy.
Chaos Walking Trilogy
[Deleted User]
Posts: 0
✭
edited August 2012
in Books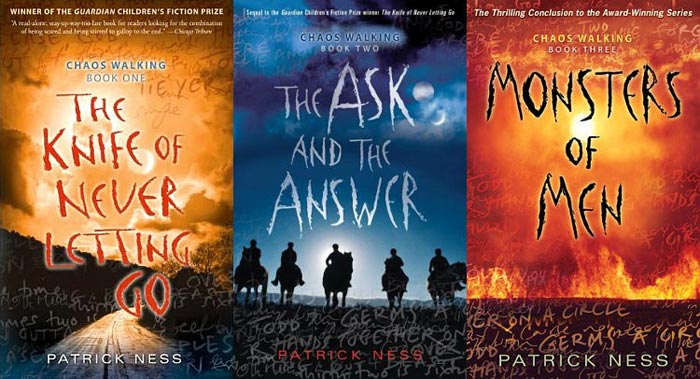 So here I am again guys, with another book/series recommendation for all of you. Don't read the synopsis of the #2 or #3 if you haven't read the novel.
#1 Book
THE KNIFE OF NEVER LETTING GO
Synopsis: Prentisstown isn't like other towns. Everyone can hear everyone else's thoughts in an overwhelming, never-ending stream of Noise. Just a month away from the birthday that will make him a man, Todd and his dog, Manchee -- whose thoughts Todd can hear too, whether he wants to or not -- stumble upon an area of complete silence. They find that in a town where privacy is impossible, something terrible has been hidden -- a secret so awful that Todd and Manchee must run for their lives. But how do you escape when your pursuers can hear your every thought?
#2 Book
THE ASK AND THE ANSWER
Synopsis: We were in the square, in the square where I'd run, holding her, carrying her, telling her to stay alive, stay alive till we got safe, till we got to Haven so I could save her - But there weren't no safety, no safety at all, there was just him and his men... Fleeing before a relentless army, Todd has carried a desperately wounded Viola right into the hands of their worst enemy, Mayor Prentiss. Immediately separated from Viola and imprisoned, Todd is forced to learn the ways of the Mayor's new order. But what secrets are hiding just outside of town? And where is Viola? Is she even still alive? And who are the mysterious Answer? And then, one day, the bombs begin to explode..."The Ask and the Answer" is a tense, shocking and deeply moving novel of resistance under the most extreme pressure. This is the second title in the "Chaos Walking" trilogy.
#3 Book
MONSTERS OF MEN
Synopsis: "War," says the Mayor. "At last." Three armies march on New Prentisstown, each one intent on destroying the others. Todd and Viola are caught in the middle, with no chance of escape. As the battles commence, how can they hope to stop the fighting? How can there ever be peace when they're so hopelessly outnumbered? And if war makes monsters of men, what terrible choices await? But then a third voice breaks into the battle, one bent on revenge - the electrifying finale to the award-winning "Chaos Walking" trilogy, Monsters of Men is a heart-stopping novel about power, survival, and the devastating realities of war"
#Prequel
THE NEW WORLD
Synopsis: In this dramatic prequel to the award-winning Chaos Walking Trilogy, author Patrick Ness gives us a short story of Viola's journey to the New World.
---
Movie
Lions Gate Entertainment acquired worldwide distribution rights to a film adaptation of the "Chaos Walking Trilogy", to be produced by Doug Davison's production company Quadrant Pictures. Oscar winning writer Charlie Kaufman will be writing the script for the film adaption for The Knife of Never Letting Go. It is scheduled to 2014
http://www.imdb.com/title/tt2076822/
---
What did I thought of it: the first book was already really good and a interesting experience. Although, the second book is a stand-out. What an amazing, chilling and thrilling experience. Are you a fan of Science Fiction? Western? Do you like dystopias? If you do, Chaos Walking might the most original one out there. I strongly recommend it and I just can't wait for the movie and to the 3rd book to be released over here in Brazil.